Greggs
Takeaway/sandwich shop
Current Rating
Food Hygiene Rating: 5 (Very Good)
This is based on:
Food Hygiene and Safety: Very good
Structural Compliance: Good
Confidence in Management: Very good
Greggs currently has a food hygiene rating of 5. This was awarded on Thursday 16th August 2018 by Oadby and Wigston Borough Council.
Address
23 Leicester Road,
Wigston,
Leicestershire,
LE18 1NR
Right to Reply
The establishment has a right to reply but has not done so.
Previous Ratings Report
This establishment has 3 previous ratings.
A report is available to download with the previous ratings and rights to reply for only £2.99.
Receive Updates On New Ratings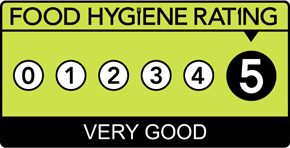 Sign in to save to your favourites.
Opening Hours
The opening hours for Greggs are:
Sunday

9:00am - 4:30pm

Monday

7:00am - 6:30pm

Tuesday

7:00am - 6:30pm

Wednesday

7:00am - 6:30pm

Thursday

7:00am - 6:30pm

Friday

7:00am - 6:30pm

Saturday

7:00am - 6:30pm
Telephone: 0116 288 4518
Website: Visit Website