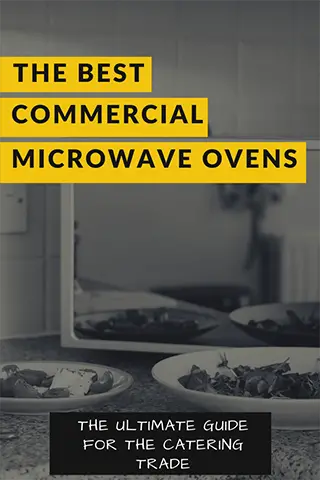 The equipment you choose for your business can have a major impact on the efficiency of your staff, this is especially true in the kitchen, where the right equipment in the right place can increase the speed of service and therefore the amount of customers you can serve.
Microwaves are used in every kitchen, from reheating sauces, to defrosting meat and cooking meals, and having the right one for the job is important. Whilst more expensive is not always best depending on the job you want it to do, you should always look to get one with the best features for what you need. Below we look at the best commercial microwaves on the market.
Power output: 900W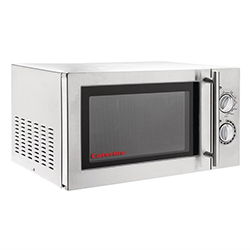 The first microwave oven on our list is the Caterlite Light Duty Microwave Oven with Grill. The cheapest on our list, this one is a Semi-commercial microwave oven, comparable in power to some of the microwaves designed for home use but with a commercial build quality and the addition of a grill.
With five power settings a 30 minute timer and max power of 900W its not breaking and new ground with innovative features, however sometimes you just need a small, quick microwave and grill for light use toasting buns or reheating portions, at which point there is no need to spend any more than this.
Caterlite is the light-use brand from Buffalo, the well-respected catering equipment supplier.
Compact and light with a stainless steel finish and glass turntable, you can plug this in and be up and running in seconds.
Product Features
Capacity: 23Ltr
Dimensions: 281(H) x 483(W) x 396(D)mm
Dimensions: external 281(H)x 483(W)x 396(D)mm
Dimensions: internal 200(H) x 315(W) x 320(D)mm
Material: Stainless Steel
Output: 900W.
Power Type: 1400W, 230V. 6.1A
Voltage: 230V
Weight: 14.1kg
Power output: 1.1kW
The Buffalo Programmable Microwave oven is the first of the full catering microwaves on our list. With a strong 1100W Output and large 26ltr bay, 4 power levels, a 40 minute timer and 20 programmable pre-sets.
The stainless steel exterior make this ideal for commercial kitchens where the ability to easily wipe clean is important.
Product Features
Capacity: 26Ltr
Dimensions: 297(H) x 517(W) x 412(D)mm
Dimensions: cooking area 225(H)x 336(W)x 349(D)mm
Dimensions: internal 225(H) x 336(W) x 349(D)mm
Material: Stainless steel
Finish: external Stainless steel
Power Type: 7A. 1100W
Voltage: 240V
Weight: 17.5kg
Power output: 1.1kW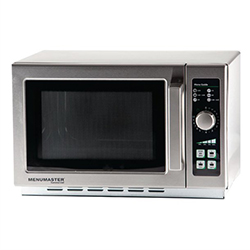 The Menumaster range is known for its Heavy usage, large capacity microwaves, and the RCS511DSE is no exception. Big enough to cook batches all in one go, the Menumaster uses a system that rotates the microwave emitter, not the food, to ensure even cooking throughout every time.
Built to take the heavy knocks of both kitchen work and contact with the public, the solid stainless steel design allows this model to be stacked, saving space in your kitchen and the removable air filters allow you to keep it running and well maintained for longer in a commercial environment.
Product Features
Capacity: 34Ltr
Dimensions: 352(H) x 559(W) x 483(D)mm
Dimensions: cooking area 216(H) x 368(W) x 381(D)mm
Dimensions: internal 216(H) x 368(W) x 381(D)mm
Material: Stainless Steel
Power Type: 1.55kW, 230/240V, 13A
Voltage: 230/240V
Weight: 19kg
Power output:1.85kW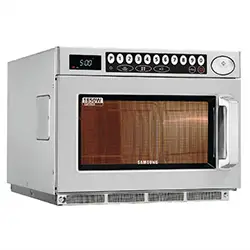 The Samsung CM1929 is one of the most popular commercial microwaves in the world. The combination of Samsung's brand being known for quality and the fact that lots of young chefs grown up in kitchens using this model means that this is likely to be a favourite for a long time.
The 26 ltr capacity is enough to fit a 2/3 Gastronorm Pan (Plastic Of course) and this microwave uses two emitters to ensure complete cooking coverage at 1850W to ensure a fast turnaround time. It can be stacked to save space and comes with a kit to allow you to safely do so and has a removable air filter for cleaning.
The system has 30 programmable settings across 5 power ranges so you can program your whole menu and always have it with two buttons reach and the 50 minute timer means that you never have to worry about over cooking when defrosting.
Product Features
Capacity: 26Ltr
Dimensions: 368(H) x 464(W) x 557(D)mm
Dimensions: internal 190(H) x 370(W) x 370(D)mm
Finish: external Stainless steel
Finish: internal Stainless steel
Output: 1850W
Power Type: 3.2kW, 230V
Voltage: 230V
Weight: 32kg
Power output: 1.8kW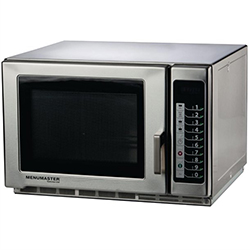 The Bigger, more powerful version of the Menumaster RCS511DSEthat we looked at earlier, the Menumaster RFS518TS is slightly taller to give additional internal high and has a much more powerful 1800W emitter for increased raw cooking power.  This model also includes programmable touch buttons for easier repeated use and the strong stainless steel, stackable design and removable air filters make this perfect for the busy kitchen.
Product Features
Capacity: 34Ltr
Dimensions: 365(H) x 551(W) x 533(D)mm
Dimensions: cooking area 226(H) x 359(W) x 413(D)mm
Material: Stainless Steel
Power Type: 2.7kW, 230/240V, 13A
Voltage: 230/240V
Warranty: 3 Years Magnetron Part Only & 1 Year Parts & Labour
Weight: 29kg
Power output: 1.8kW
Panasonic make great electrical equipment, and the NE1814 is no exception. Whilst this is the smallest microwave on the list at only 17ltr capacity, it comes with everything you would expect in a microwave of this price and quality and more.
Designed for heavy kitchen use out of heavy duty stainless steel, its is stackable, with easy dial controls  and self diagnostics. This model features emitters at both the top and bottom for all round evenness during cooking, and comes with the Microsave cavity liner, which is removable to make cleaning your microwave as quick as possible.
Product Features
Capacity: 17Ltr
Dimensions: 335(H) x 422(W) x 508(D)mm
Dimensions: cooking area 324 x 304 x 170
Material: Stainless Steel
Output: 1.8kW
Power Type: Electric
Voltage: 230-240V
Weight: 31.5kg
Power output: 1.15kW Microwave / 1.8kW Grill / 1.8kW Convection.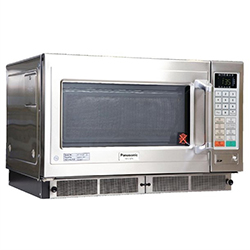 The Panasonic NE-C1275 was designed with chain kitchens in mind, where a consistent set of up to 99 pre-sets would be needed across a range of kitchens. To achieve this they added the facility to program them on a computer and then upload them from an SD card. This makes chain installations much quicker and easier and each of the 99 programing options can have three stages of cooking. You can also lock it to just pre-sets to stop employees in far flung locations "going rogue".
A combined microwave and grill, this product combines 1800W of microwaves from two emitters, with 4 heat elements to help grill or brown food as it cooks. Its advanced design includes a "fast Cool" function, to drop the temperature for cleaning without hours of waiting around after grilling.
Product Features
Capacity: 30Ltr
Dimensions: 383(H) x 600(W) x 484(D)mm
Dimensions: internal 217(H) x 406(W) x 336(D)mm
Power Type: Electric
Temperature Range: 100°C to 250°C
Voltage 230V
Weight: 41kg
Power output: 2.1kW
The Menumaster Steam Microwave is the first on our list to require wiring into the mains electricity supply rather than just plugging into a socket. This is needed to power the four magnetron emitters running at 2100W. This has the largest capacity of any of the models listed at 45ltrs and is big enough to fit two 1/1 Gastronorm Trays (Plastic).
You can have up to 100, four stage cooking programs saved and can update them using a USB drive to make it easy to role out changes across multiple sites. And with the added steam function and shear power of the 2100W emitters this microwave is designed for the heaviest of uses. 
This is all on top of Menumaster's standard features of stainless steel construction, stackable options and removable air filters. If you have the space to fit it in your kitchen there is not one area where this model falls down.
Product Features
Capacity 2 x 1/1 GN
Dimensions 472(H) x 650(W) x 597(D)mm
Dimensions - cooking area 251 x 535 x 330mm
Material Stainless Steel
Power Type 3.7kW, 230/240V, 16A
Voltage 230/240V
Weight 45kg
Power output: 2.4kW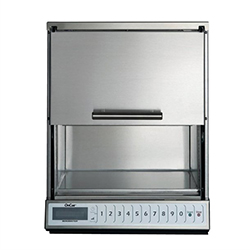 The last microwave on our list may seem like a novelty but there are many advantages to its rather unique design. Firstly it has a vertically opening pop up door which opens automatically when cooking has finished. Not only does this mean you can fit it in places where a swinging door would either be in the way or open the wrong way, it also increases efficiency for the staff using it.
Secondly it has a very small foot print and is designed in a unique "L" shape so that two can fit back to back so save even more space. This does however come with a reduced capacity of only 9ltrs which makes it perfect for small food outlets or vans where space is at a premium.
It does however put of 2400W of power from its two magnetron emitters which necessitates it being wired directly into the power supply. However this extra power really improves cooking times, with Menumaster saying it "melts cheese on burgers in 8 seconds heats spinach dip from frozen in 1 minute 30 seconds and heats macaroni and cheese from frozen in 1 minute 10 seconds"
Product Features
Capacity: 9Ltr
Dimensions: 451(H) x 352(W) x 486(D)mm
Dimensions: cooking area 136 x 298 x 254mm
Material: Stainless Steel
Power Type: 3.1kW, 230/240V, 16A
Voltage: 230/240V
Weight: 32kg
For more buying guides for your business check out Best Commercial Washing Machines - The Ultimate Guide for The Hospitality Trade and What is the Best Chef Uniform for your Business?