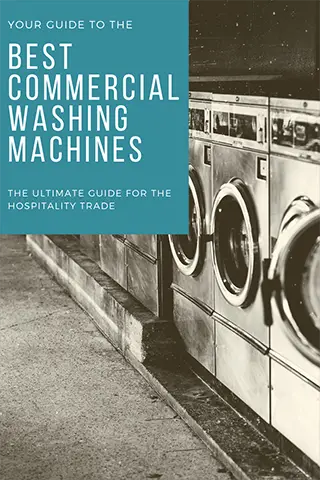 If you have a restaurant, hotel, bed and breakfast or any business where you have a significant amount of washing to be done, it can prove more cost effective to purchase a commercial washing machine and have it washed on site, rather than send it out to a specialist linen service. In this article we look at the five best Commercial Washing Machines for your business.
Capacity: 16kg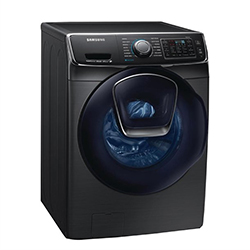 The first machine on our list is also the most expensive. Whilst it has the largest capacity, at 16Kg, is certainly the most stylish looking, has several innovative features, such as a drawer to add items during the cleaning cycle and features Samsung's "Eco Bubble" technology to allow you to wash more efficiently, and its uniquely shaped drum reduces damage to clothing, it does underperform the others on this list in some areas.
Whilst its spin speed is 1200rpm, slower than many others it still only manages an energy efficiency rating off A++, something other faster machines have beaten. More importantly the machine has not been WRAS approved which means it is unsuitable for high contamination areas such as butcheries.
With such a large drum size this machine is suitable for businesses with a large amount of barely soiled cleaning, and so whilst it does provide an amazing clean, and has the commercial parts to ensure it will be long lasting, there are other cheaper machines on this list that will provide better value in most cases.
Product Specifications
Capacity 16kg
Dimensions 986(H) x 686(W) x 864(D)mm
Model Number WF6500K
Voltage 220-240V
Warranty 2 Years Parts & Labour
Weight 103kg
Colour Graphite
1200rpm
Capacity: 8kg or 11kg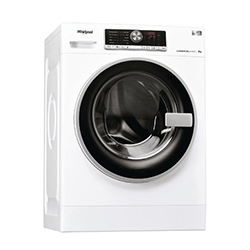 The Whirlpool AWG812/PRO washing machine may be the cheapest machine on our list but this is a good entry into the world of commercial quality washing machines bridging the gap between domestic and commercial. Suitable for Bed and Breakfasts, Small hotels and care homes this machine has an 8Kg drum capacity, and its anti-vibration design reduces noise levels to 49dB (about the noise level of a conversation at home) on the wash cycle and 69db on the spin cycle (The volume of the average vacuum cleaner).
It features Whirlpools "6th SENSE" sensor system that adjusts the cycle to the weight and type of load you are washing to ensure it is as quick and efficient as possible without compromising wash quality.
It features 17 different cycles including professional anti-stain, hygiene and anti-allergy cycles and can reach temperatures over 90°C and a spin rate of 1400rpm if needed, with an A+++ Energy Rating.
This machine is also available in the larger 11kg model with all of the same features.
Product Specifications
Dimensions 850(H) x 595(W) x 640(D)mm
Model Number AWG812/PRO
Voltage 220-230V
Weight 85kg
Energy Rating A+++
1400 rpm
Capacity: 15kg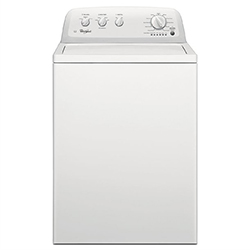 This washing machine is an American style top loading washer, with are very large 15kg drum designed for fast bulk loads and near constant use, perfect for hotels with large amounts of linens to be cleaned.
Built to last, this machine has a hard wearing porcelain drum and a high strength central agitator rather than a spinning drum, which allows it to work successfully at much a lower speed of 660rpm without an increase in load times. Whilst the top loading access hatch reduces the manual handling task of bending down to load the machine.
Featuring 21 different cycle types and a load weight sensor for efficiency, like a lot of commercial machines this machine requires both cold and hot water feeds into the machine, which increases wash speed as the machine does not need to heat its own water.
Product Specifications
Dimensions 1006(H) x 699(W) x 686(D)mm
Model Number 3LWTW4705FW
Voltage 220-240V
Warranty 1 Year
Weight 80kg
660rpm
Capacity: 15kg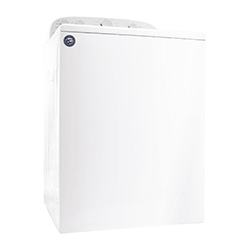 The Whirlpool Atlantis Professional Washing Machine is the next step up from our previous pick. Whilst still featuring the top loading 15kg capacity porcelain drum with central agitator and 660rmp speed, this model features Whirlpools newer "6th SENSE" sensor system to increase efficiency and minimise the water and energy used whilst still providing the perfect clean.
Product Specifications
Model Number 3LWTW4815FW
Dimensions 1067(H) x 699(W) x 686(D)mm
Voltage 220-240V
Warranty 1 Year
Weight 61kg
660rpm
Capacity: 8kg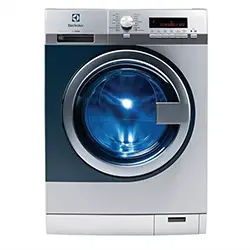 The Electrolux myPRO commercial washing machine is available as both the WE170P (with a waste water pump) or as the WE170V (Without a waste water pump) other than that they are both the same machine.
Designed for business use in care homes, restaurants and smaller hotels this machine has many innovative features, such as larger holes in the drum at 4.5mm rather than the standard 2.2mm and a specialist sluice program which allows for the larger dirt found in commercial premises to leave the drum quicker and easier which aids cleaning.
The larger holes and drum shape, along with the high 1400rpm spin speed also reduces the cycle time as the spin phase removes excess water faster. Combined with the utility of having hot water plumbed into the machine directly from the boiler, these machines can be up to 50% quicker than a standard washer.
The machine has an A+++ energy rating and has a vibration reducing design to reduce noise and wear on the machine, with a tested wash volume of 49dB and a spin volume of 75dB.
Product Specifications
Capacity 8kg
Dimensions 850(H) x 597(W) x 624(D)mm
Speed 1,400 RPM
Voltage 230V
Warranty 2 Years
Weight 80.5kg
A+++ energy rating
WRAS approved to Fluid Category 5 (for hygiene applications)
For more buying guides for your business check out Best Commercial Microwave Ovens - The Ultimate Guide for the Catering Trade and What is the Best Chef Uniform for your Business?