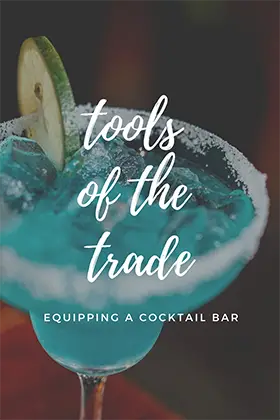 Adding cocktails to your bars repertoire is a great way to increase sales and expend your business to a younger audience, and encouraging a profitable bar. On average cocktails work out significantly more profitable than other bar drinks, with profit margins of up to 90% on some cordial based cocktails.
Here we take a look at the basic equipment required to set up an effective cocktail bar.
The Jigger
If you are making mixed cocktails then a jigger is an essential piece of equipment, it's the barman's basic measuring tool. There are lots of different types available but the most useful for a working bar is double ended with a 25ml measure one side and a 50ml the other. Even these come in a variety of styles to fit your bars aesthetic, from the classic shape to the more unusual.
Our recommended option is available on Drinkstuff.com
Shaker
The shaker is the other essential piece for a cocktail bar, they come in a variety of styles such as Cobbler, Boston and Parisian and all styles have their benefits and drawbacks. The Boston for example requires a separate strainer, but is less likely to "freezer Shut" when making iced cocktails. You will find that experienced bar staff will claim the style they trained with is superior, so if you are recruiting experienced Mixologists you may end up with a few of each style, whereas if you are training staff from scratch you can teach them one style with little issue.
Our recommended Option is the Boston Tin & Glass Set as it works well and has separately available replacement parts for when they inevitably get dropped and knocked out of shape. Its Available from Drinkstuff.com
Bar Spoon
A proper bar spoon has a small bowl and a long handle to allow you to stir, mix and muddle easily in a wide variety of cocktail glasses. Whilst they are available in funky designs they all work as well as each other so there is no need to spend large amounts of money. Just make sure it's a long one, at least 28cm will do.
You can find bar spoons in multipacks on Amazon and on Drinkstuff.com and Thedrinkshop.com.
Muddler
If you are going to be crushing herb or mashing fruit for your cocktails then you will need a muddler. Originally a solid chunk of wood with a straight shaft and a domed end, you can now find them regularly made of stainless still and silicone.
Our Recommended Mudler by Genware is Stainless steel with a silicone end for ease of cleaning and is available from Amazon and Drinkstuff.com
Mixing Glass
A mixing glass is simply a larger glass used to make batches of the same cocktail at once, usually large enough to hold two or three drinks at once with a lip or spout to aid decanting into serving glasses.
Our recommended option is the urban Bar Japanese Mixing Jug, available from Amazon and Drinkstuff.com.
Blender
A jug blender of useful for a wide range of cocktails. It is useful to get one with variable speeds and you should consider how loud it will be, especially if you don't have loud ambient music playing in your cocktail bar. However, the most important feature will be power and build quality as you will sometimes need to blend ice which can wreak havoc on cheaper machines.
Our recommended blender is the Santos Silent Bar Blender 62A which is a strong and durable blender whilst still being quiet. (Well as quiet as a blender can be) You can find it on Amazon or from Nisbets.
Bottle Opener
Whilst you will almost certainly already have bottle openers for your bar, it is worth listing them here as a requirement. There are also different styles of opener available which can be quicker for Mixologists to use whilst making cocktails. The most popular for cocktail bars are Bar Blades as they are quick to use and can be used with some flair techniques.
We  recommend Bar Blades which can be found on Amazon and Drinkstuff.com
Corkscrew
Another basic of the bar trade, there are many styles available. As always with cocktails, speed of service is key to a successful cocktail bar so look for a convenient ergonomic shape that your staff get on with well.
You can get a wide range of corkscrews on Amazon although most of the larger commercial wine suppliers will give you them for free.
Bottle Stoppers
Good bottle stoppers will keep wines fresh and champagnes fizzy for longer, handy if you are using them in cocktails but can't guarantee to use a whole bottle a night. For wine look for vacuum stoppers like the VacuVin Wine Saver available on Amazon and Drinkstuff.com and champagne stoppers for fizz like the Utopia Stainless Steel Champagne Stopper also available on Amazon  and at Drinkstuff.com.
Pourers
Pourers fit the top of spirit and cordial bottles, and allow a nice steady aimed flow which allows for advanced pouring methods whilst also speeding up service as they keep the bottles covered without having to constantly unscrew lids.
Again there are several types including ones that are supposed to cut off at measured amounts and with different flow speeds. For a cocktail bar, look for free flow or speed pourers which will give you a constant steady stream and ensure you get ones with the same flow speed to ensure consistency for your staff.
We recommend the Tom Dyer Professional Chrome Tapor Pourer which has a medium flow and is also suitable for flair pouring. It's available in 12 packs from Drinkstuff.com and Nisbets so check each for the best price.
Chopping Board and Bar Knife
A small chopping board and knife is needed for preparing fruits to go in the cocktails. Remember any large prep will be done before service, so a small board that doesn't take up too much space behind the bar is best. Also look at a lemon zester stripper.
You can pick up small chopping boards all over, we would suggest the Hygiplas Bar Chopping Board from Nisbets and the Genware Serrated Forked Bar Knife from Drinkstuff.com.
Ice Bucket
You will need ice…. Lots of ice. The ideal situation would be to have ice wells built into the bar, however where this is not possible then a good ice bucket is essential. Look for one with a lid to slow down melting. These two here and here are pretty standard for the industry, and you can't really go wrong with them.
Ice Machine
As we said you will need ice, a good high producing ice machine is essential. We would recommend getting one of the modular machines with separate ice producing section and hopper. This allows for you to upgrade as necessary with less expense. As ice usage is not liner throughout the week you can get a machine that produces less ice then the hopper holds to save money as the hopper will fill up during downtime the day before.
We recommend the Ice-o-Matic Modular range for this which comes with a range of sizes in storage and ice production so you can get the right size for you.
Ice Crusher
Crushed ice is used in lots of cocktails and whilst it is nice to have an ice well full of the stuff, sometimes space requirements will mean that you need to grind it at the bar. Ice crushers take a lot of punishment. This is the one piece of cocktail equipment you should spend as much as you can on to ensure it doesn't break down.
We recommend the Scotsman Crushman360 for very busy bars and the Santos 53a for less busy bars.
Glass Rimmer
Garnish is important to the look and taste of a cocktail and many popular cocktails like Margaritas, require a salted or sugared rim on the glass. A three tier glass rimmer holds sugar, salt and juice to make it stick, significantly speeding up the process.
Most follow a very similar design and you can find them on Amazon and Drinkstuff.com.
Glasses
You will need lots of different glasses to show off your cocktail range. You can find out more about the different types of cocktail glass available here.