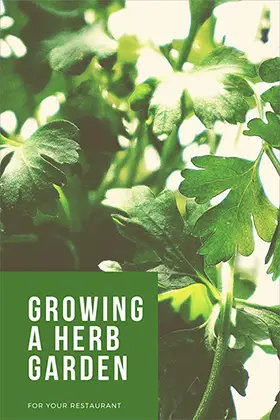 Commercial kitchens use a lot of fresh herbs and growing them in house is increasingly being seen as a way to improve your eco credentials a business. Whilst this does allow you to reduce the "food Miles" and carbon footprint of your meals and can allow you to grow your herbs organically, there are also benefits to flavour, herbs loose flavour once picked, so the shorter distance they travel the better, and over time can save you significant amounts of money.
Where Can I Build a Herb Garden?
If your business is lucky enough to have a garden area, such as many country pubs do, then adding a garden is very easily. You can section off a spare flower bed or build new raised beds to plant your herbs. If you are in the situation where you have plenty of room you should consider the best placement for your customers.
Whilst placing it nearest the kitchen may at first glance seem the best choice, in practice chefs will harvest what they need in one go during prep time, so ease of access during the day is not so important.
Instead think about your customers, a business trading on a reputation of fresh local ingredients would do well to make the herb garden a feature for example.
Businesses without this space can still easily add home grown herbs to their menus. You can use a combination of hanging garden planters, window boxes, roof top gardens or specialist equipment to ensure you have the space needed to grow your herbs. As you will be constantly picking the leaves from the plants for cooking they will not grow too large or unmanageable.
To give you some idea of the space required, an area of 1m x 1m will produce around half a kilogram of leaves a week. 
What should I grow in my Herb Garden?
As a simple guide, the easiest to grow are Parsley, Oregano, Chives and Basil, the hardest are Rosemary and Thyme, although even they are not actually that difficult to get to grow.
Whilst the simple answer for most is "Grow what your menu requires" however this is also the perfect opportunity to adjust your menu to use what you can grow seasonally, especially if you are looking to add a vegetable garden too.
Coriander is the most widely used herb in cooking worldwide, with the other most common used in the UK including Basil, Parsley, Rosemary and Thyme.
What are the Advantages of a Herb Garden for my Business?
There are many advantages to growing your own herbs for your business. As already discussed growing your own can be a strong branding tool, helping to give the message of freshness and environmental concern subtlety. 
There can also be a large cost saving benefit. You can buy Coriander seeds on Amazon for less than the price of a bunch wholesale and get many times the return. When you grow your own your own you also don't have to worry about delivery shortages or late deliveries.
The ability to claim your ingredients are Organic can be a big plus for your business, but to do so you need to ensure that you do keep things natural. Make sure your compost doesn't have artificial additives and use natural methods to remove any pests should they arrive.
How do I get a Year round Supply?
If you are concerned about getting little or low yields of herbs through winter, especially during the busy Christmas period, then you should consider a greenhouse or the indoor options of either hanging baskets or specialist equipment like a Plant Growing Cabinet.
So what are Plant Growing Cabinets?
If you are looking into having a consistent supply of herbs all year round then a plant growing cabinet is the best option. Our recommended choice is the Evogrow 4 Series cabinet.
The Evogrow 4 is used by big names such as Claridge's and Michelin Star holder The West House and its sleek modern look means it will fit in, whether in the kitchen or on display to your customers.
The machine consists of six shelves with individual growing lights allowing you to grow a mix of different herbs all at once, and an inbuilt hydroponic system to water them automatically.
The lighting in the system is designed so that it can change to emit the specific wavelengths that each particular herb finds most beneficial whilst minimising wasted energy, which ensures you have the optimal environment for herb growth.
Likewise the water for the advanced hydroponics system can be plumbed into your mains water supply or run from an internal reservoir, which allows a lot more choice when choosing where to site the machine.
The real secret of this cabinet however is the series of sensors and 24 high definition cameras, which constantly monitor the growth or your crop and adjust the makeup of the lighting and water levels. This data is fed through the internet via Wi-Fi or 3G connection to the accompanying app which will alert you when there are jobs to be done and to the Evogrow Cloud, where it is checked against data collected to benchmark growth. This allows the machine to adjust to any issue automatically and installation even includes on-site training to get you up and running.
With over 100 crop options already available any herb you need should be available and as the machine requires no pesticides or herbicides it is very easy to go fully organic whilst securing your supply.
However you go about doing it, growing your own herbs can have a very positive effect on your business, both financial and social, it can quickly pay for itself if done we