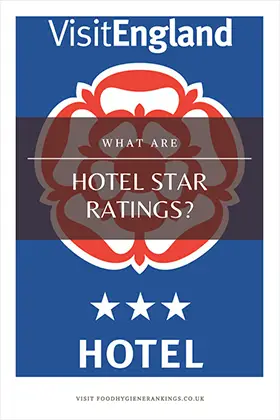 Outside many hotels in the UK you will find a plaque bearing a star rating. Here we will discuss what they are, why people have them and how to get them.
What is a Star Rating?
The Star rating system is a way of comparing the standards and facilities of hotels to help customers find a hotel the meets their expectations. They are issued after an inspection by either the official tourist board, Visit Britain, their partner boards, Visit Scotland, Visit Wales and the AA. They all rate hotels to the same shared set of common standards to ensure consistency throughout the UK.
Star rating systems were originally started by the RAC and AA as a service to their members, as the rise of the car lead to more people travelling to areas where they had little prior knowledge of what to expect. To begin with there was no unified scoring system so it was common for hotels to have a score with both companies, it wasn't until 2006 that together with Visit Britain the settled on one scoring system and the RAC stopped issuing ratings in 2008.
To be rated you have to apply through the website of one of the issuing companies and pay a fee based on your expected rating. This can be between £500 to £3000 depending on expected score. You should remember that as facilities available are a major scoring factor it is not possible for every location to gain a five star rating.
There are schemes run worldwide that may appear similar but have different scoring systems. Austria, Belgium, Czech Republic, Denmark, Estonia, Germany, Greece, Hungary, Latvia, Liechtenstein, Lithuania, Luxembourg, Malta, Netherlands, Slovenia, Sweden and Switzerland are all part of the HotelStars scheme to provide a consistent rating scheme amongst themselves which is similar to the UK system.
How are Star Rating Assessments Performed?
Once your application has been received, an inspector will book to stay the night in the hotel unannounced. They will aim to experience the hotel in the same way as other customers, eating on site if possible. The following morning they will identify themselves to management and go through the rest of the inspection with them. They will explain any major issues found and discuss improvements needed to get you to the score you are after. You will be expected to waive the cost of an inspection visit.
You will be issued a certificate which allows you to display the rating given to promote your business. You will have annual re-inspections to ensure your score is accurate.
Hotels are broken down into five categories. Hotels in each of these categories need to meet all of the minimum requirements for each rating with the exception of Metro Hotels where providing dinner is not required.
The categories are:
Hotel - Formal accommodation with full service. Minimum five guest bedrooms but more likely in excess of 20. 
Country House - Hotel A country house hotel with ample grounds or gardens, in a rural or semirural situation with an emphasis on peace and quiet. 
Small Hotel - Smaller hotels with a maximum of 20 bedrooms. They will be personally run by the proprietor and are likely to have limited function business. 
Town House Hotel - High quality town/city centre properties of individual and distinctive style with a maximum of 50 rooms. High staff-to-guest ratio. Public areas may be limited. Possibly no dinner served but room service available instead. 
Metro Hotel - A town/city hotel providing full hotel services with the exception of dinner. Within easy walking distance of a range of places to eat.
What are they looking for?
The scheme is arranged around quality and type of service and facilities available at the Hotel, with a minimum set of standards that must be provided at each level across 9 areas.
Hospitality
Service
Bedrooms
Bathrooms
Cleanliness
Food
Exterior
Public Areas
Dining Room & Restaurants
For example the minimum requirement for a one star hotel on arrival is that "Guests clearly directed to their room and given a brief explanation of location of hotel facilities." In a five star hotel the requirement is "Guests are shown to their room and given a full orientation of hotel and bedroom facilities."
When dining a one star hotel requires "Individual tables available for each guest or party." Whereas a five star hotel requires that "Restaurant tables should have sufficient space around them to allow a high degree of privacy and freedom of movement."
You can find the full breakdown of the requirements of each star level on the AA website here: https://www.theaa.com/hotel-services/ratings-and-awards
What is Quality?
When looking at quality in each hotel, they try to take into account the varied nature of hotel décor. Asking if the quality is of the standard in keeping with star rating expected. In their guide the AA state that they take account of the following when defining quality:
Intrinsic Quality – The inherent value of an item.
Condition – The maintenance and appearance of an item. Is it fit for the purpose?
Physical and Personal Comfort – Does the quality of an item detract in any way from the comfort of the user?
Attention to Detail – The evident care taken to ensure that the guest experience is special and of the same high standards for all.
Guests' Choice and Ease of Use – The guest experience is enhanced through choice – be it the choice of beverages in the room or the choice of room temperature. This is further improved by how usable the guest finds the room and its contents.
Presentation – The way the room and its contents are presented for guests' arrival and during their stay.
So what Facilities are Required?
One Star Hotels require:
The Hotel must open 7 days a week during its opening season. It does not have to open all year round however.
They must have a noticeable separate reception area for guests to check in.
There must be staff contactable 24 hours a day.
They must serve a cooked breakfast in a designated dining room or restaurant every day.
Guests must be able to enter or leave the hotel at any time of the day.
All bedrooms must have private toilets and washing facilities.
Two Star Hotels additionally require:
A distinct dining room or restaurant serving dinner every day of the week.
Three Star Hotels require:
All bedrooms must have ensuite toilet and washing facilities
Customers must be able to access all communal areas of the hotel without needing staff to unlock doors or to carry a physical key.
Room service available into the evening serving both hot and cold food.
Four Star Hotels Require:
A restaurant open to both the general public and guests for both breakfast and dinner every day.
Room service to be available 24 hours a day.
Full table service at breakfast
Staff on duty 24 hours a day
All guests should be offered help with their luggage
All rooms should have showers with adjustable temperature showers and at least half of all rooms should have a bath.
Five Star Hotels Require:
All bedrooms must have ensuite bathrooms with both a bath and shower
Full room Service must be available 24 hours a day
The hotel must be open all year round and offer valet parking
Staff must take care of all luggage and escort you to your rooms
All communal areas of the hotel should be large enough for everyone to have a large amount of personal space.
Bars, restaurants and lounges should have full table service
The restaurant must serve a traditional afternoon tea
The hotel must have at least one luxury suites available, made up of at least three rooms and have additional leisure of business conference facilities, this could include a gym, swimming pool etc
Why join the Hotel Star Rating Scheme?
There are many advantages to joining the star rating scheme. For business owners it provides an annual 3rd party inspection with a full written report and action points, which can be a big help in improving and growing your business. This price of this alone purchased separately could be more than membership.
You also gain access to a vast amount of free publicity materials, your hotel will appear on the issuing companies website and feature in there promotional work, you get a plaque to display outside your business and stickers a web logo and the ability to use the rating on all of your promotional work.
It also gives a way for customers to know what to expect when staying with you. A customers expectations when they enter an establishment have a big impact on their perception of the service they receive, so setting those expectations before arrival can have a positive effect on reviews left on sites such as Tripadvisor and google reviews. 
Ultimately you should look at what the benefits from the scheme are to your business and see if it makes financial sense for your business.