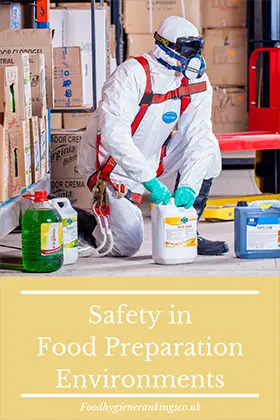 Introduction
When working in any business where food is prepared, from initial manufacture, through warehousing, storage and transport to final preparation  and sale in restaurants, pubs cafes and retail stores, there are many hazards, health and safety issues which you will need to be aware of such as:
Dangers from rotating parts of equipment.
Working at height.
The risk of burns from contact with hot surfaces; 
Working in cold temperatures or in warm, humid environments.
Cuts from contact with blades and knives.
Slips, Trips and falls.
Manual handling activities, such as lifting, carrying and climbing.
Electrical shock.
Scalds from hot liquids or steam.
Fire
The danger of falling items due to unsafe stacking.
The use of trolleys, pallet trucks, fork-lifts and delivery vehicles.
Dangers from refrigerant and other gases used.
Whilst injuries can happen as the result of any manual handling process, the risks are increased when unsafe working practices and poor housekeeping procedures are not swiftly dealt with. Staff usually fall into these practices over time and often give reasons such as that they feel a different way is quicker or easier, this is why it is important to train staff in the correct way to do things, explaining why it is important and constantly reinforcing these procedures. Common examples of poor working practices include:
Carrying heavy materials, instead of using trolleys or other provided methods of transporting heavy items.
Attempting to lift items singly when they should be lifted by a team of people.
Not cleaning spills up immediately or not using the correct cleaning equipment to do so.
Poor knife management such as using blunt knives and placing sharp objects in a full sink where they cannot be seen.
Staff using machinery or other equipment on which they are not appropriately trained.
Stacking heavy or hard to handle objects on the top storage units or overloading storage racks in general.
Creating unstable piles of items instead of correctly and safely storing them.
Not wearing correct protective equipment or using it incorrectly.
Legal Duties as an Employer and Employee
As an employer you have the responsibility to protect the health and safety of anyone who interacts with your business. This means not only employees but also members of the public.
To ensure you are meeting your obligations you need to keep all equipment clean, well maintained and safe to use. Staff should have training on how to use all of the equipment as part of their duties and this should all be regularly checked, refreshed and documented. You should have clear, written methods and systems in place for all your business operations, with risk assessments regularly reviewed and actioned, so that everyone can work in the safest way possible.
Here we are looking at Health and Safety separate from food hygiene safety, which whilst it is looked at in a similar way, is regulated separately. You can find more information on managing food hygiene risks in our series Understanding Hazards Analysis and Critical Control Points.
Risk Assessments and Control Measures
You should create risk assessments for each of the tasks your business carries out. This risk assessment shows that you have taken the time to consider all of the risks involved in your business, and have taken reasonable steps to eliminate or reduce risks where possible to protect the health and safety or your staff and customers.
In the risk assessment for each task you should look at every step needed to complete the task, from manual handling such as lifting and traveling, through to the dangers from being near machinery or heat to assess if there is the possibility of danger to health and safety.
For each of these steps where you find a danger you should then look at ways to eliminate the risk. This could involve carrying out the process in a different way or in a different location, using equipment to assist in the process, or automating the process completely.
If there is no way to completely eliminate the risk then control measures should be used to reduce the risk to an acceptable level. It is often impossible to completely remove all risks from a process so you will find most risk assessments contain many control measures.
For example:
If you had a process that involves large lorries and other vehicle traffic on your premises, such as in the loading bay of a warehouse, there would be a risk to pedestrians from these vehicles. Providing separate areas for pedestrians, vehicles and fork-lifts to segregate the different flows of traffic would be an appropriate control measure. As would insisting pedestrians wear high visibility clothing and vehicles having a audible reversal warning.
In a commercial kitchen, equipment such as ovens, grills and fryers, which generate large amounts of heat create a large risk of fire. You can reduce some of this by placing them in a central location and providing a powered ventilation system to that area.
Risks to be aware of
Ventilation
In every business, no matter the type you need to provide sufficient ventilation to protect no only staff from breathing in fumes and powders from the air but also to stop the buildup of potentially explosive gas and fumes. You should remember that powders such as grain, flour, starch, sugar, powdered milk, cocoa, coffee, and pollen can all be explosive if allowed to form a dust cloud, one such explosion destroyed the Washburn "A" Mill in Minnesota in 1878 destroying the largest grain mill in the world, leveling five other mills and killing 22 people.
Air should be extracted as close to the source of contamination as possible, with fresh air pumped into the area to replace that extracted.
In catering there is however a need to look at the associated risks that ventilation can also cause. There is a risk of fire in ventilation systems over cooking equipment, where grease and fat vaporized whilst cooking can build up in the ducting. This is a particular risk in ducting above areas doing flame-grilling, stir frying, flambéing, deep frying or using ovens with exceptionally high temperatures. The heat from cooking below can cause this buildup of fat and grease to ignite.
These risks can be reduced by limiting and dealing with the grease build up in canopies and ducting. A well designed kitchen ventilation system will have appropriate modern equipment with grease filtration and an appropriate air flow level.
You should also ensure there is regular cleaning of these filters and reachable areas each week, and that the whole system is thoroughly deep cleaned and maintained throughout the year to prevent this build-up of fats.
A full deep clean is a task that most businesses will not be equipped to perform in-house as it involves in many cases entering the ductwork in a safe fashion and manually scraping them clean, in cramped and uncomfortable positions. Many insurance companies will also dictate that extraction cleaning must be completed in a TR19 compliant manner. TR19 relates to the TR19 guidelines of good practice as defined by the Building Engineering Services Association (B.E.S.A)
As such it is usually done by a specialist contractor during periods where the business is closed, usually overnight. There are many companies both national and local that can provide this service for you and will provide a TR19 compliance certificate upon completion.
Fridges, Freezers and cold rooms
Fridges, freezers and cold rooms should always have adequate ventilation to ensure that in the event of a refrigerant leak there is no chance of the room filling with oxygen depriving gases. Ideally, larger walk in fridges and freezers should have plant rooms removed from the area, so in the event of a leak the gases vent into the atmosphere rather than into populated areas of the building.
Again you should ensure that you have regular maintenance done to ensure they are safe. An annual service should include all parts such as compressors, vessels and heat exchanges, pumps, valves, piping and pressure relief devices to ensure they are safe for staff to use. 
You should ensure that testing the emergency door releases is part of your regular safety checks and that staff have appropriate protective equipment such as a freezer jacket and gloves.
Knives and Cutting Equipment
Any cutting equipment, such as knives and scissors should be kept securely when not in use and always kept sharp.  Accidents with knives are more likely to happen with dull or blunt blades, as you need to apply more pressure to cut which increases the chance of the blade or item being cut slipping. The Spyderco Knife Sharpener comes highly recommended by professional chefs for this purpose. You can read more on knife safety in commercial environments in our article here.
Lighting
You need to provide adequate lighting throughout your premises to ensure your staff and customers can see any hazards and work safely. You need to ensure that any lighting in wet areas or chillers is suitable for the job and fitted by a qualified electrician.
Personal Protective Equipment
Personal Protective Equipment, known a PPE is the safety equipment you provide to your staff to allow them to complete their jobs safely. This can include things like
• Freezer Coats and Gloves
As an employer you are responsible for deciding what PPE is required as part of your risk assessments, ensuring that it is in usable condition, is available at all times and for ensuring your staff use it.
Chemicals
Great care needs to be taken with all chemicals used in food premises. You should always choose the least hazardous chemical for the job, food safe if possible and ensure that you have the correct PPE, and Safety sheets available for each product.
To save money, people often buy undiluted chemicals and then mix them to the correct strength themselves, however this can cause issue where chemicals are mixed to strongly and can the pose a safety issue. To combat this, some of the larger suppliers will now fit a dispensing system directly to your water supply that allows you to buy concentrates and have the system mix them directly. Companies like Ecolab and Zenith will provide these if you sign a supply contract with them, an alternative is to purchase a manual pump system like the Jantex Pro Autodose system which allows you to set the mixture amount and refill from any supplier. A system like this also reduces the amount of manual handling involving raw chemicals which is a good way to reduce risks to staff.
Equipment
All equipment should be regularly inspected to ensure that it is in safe working condition. All gas appliances in a commercial kitchen, require a gas safety inspection and the issue of a CP42 Gas Safety Certificate annually. This involves having a qualified contractor come in and check the appliances. If you don't keep your gas safety certificate in date you can be prosecuted under Regulation 35 of the "Duties of Employers and self-employed persons" of the Gas Safety (Installation and Use) Regulations, in some cases this may also void your insurance.
Many commercial kitchen equipment servicing companies will come and do these checks and perform a full service on the equipment at the same time. It is advisable to have all of your kitchen equipment serviced, not just gas appliances as this will help avoid breakdowns due to wear and tear and help show due diligence in the case of an accident.
Any equipment that comes with safety guards to protect the user, such as meat slicers should be inspected daily to ensure the guard is still in place, equipment must not be used without the appropriate guards in place and both employers and employees have a responsibility to ensure they are used.
You will need to provide instruction and training on all equipment to new employees, covering the correct use, maintenance, cleaning and storage procedures and have this recorded on their employee records. You cannot assume that because someone says they have used equipment before that they know how to use it safely.
Keeping Records
Accurate record keeping is vitally important to your business, as it will be you're only proof that you have considered safety risks and taken consistent action to remove or reduce them. In the same way that most restaurants who fail to score a rating of 5 on their Food Hygiene Rating do so due to lack of historical paper work, not due to any issues found, the majority issue found on safety visits is that people are unable to produce risk assessments and control measure records.
This is why it is important that all staff know where to find this information, if an inspection or accident happens whilst the manager is away, and staff on site are unable to produce these records, any inspectors have to assume they don't exist.
You should keep records of periodic inspections of the work premises and record any safety issues relating to the cleanliness of the premises and equipment, along with the course of action taken to correct any issues found. Records of training given to workers, including informal chats, should be kept in personnel files or with your safety management records. 
As you have read, keeping your staff safe is not complicated if you take a staged process to do so, identifying issues, taking action to remove or reduce them as much as possible and the recording the results. As long as you do so you should be able to avoid major incidents.
You can find more information on Health and Safety at Work on the Health and Safety Executive website.
For more information on knife skill see Knife Safety in Commercial Kitchens, Catering and Food Processing and for information on Food Hygiene Safety check out our article Introduction to HACCP.