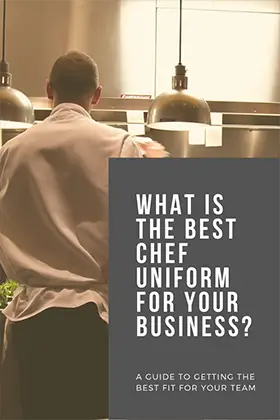 If you ask chefs what the most important consideration is when purchasing uniforms, 9/10 will say comfort. Whilst front of house staff uniforms need to iron well and present a brand image, this is not such an issue for chef uniforms, after all, they spend large parts of the day leaning over steaming pots.
We would recommend that you consider the following in in priority order
1. Heat Control
2. Comfort
3. Functionality
4. Style
5. Durability
6. Price
Chefs Jacket
As we all know, commercial kitchens can get very hot, with pots boiling, ovens roasting and pans frying, with chefs running around managing it all. However, often forgotten are those in the kitchen who get cold, such as the dessert chef away from the ovens and in and out of fridges and freezers.
This is why it is important that a chef's uniform be suitable for their role.
The traditional chefs coat is designed to insulate you from external temperatures, the double breasted nature of them, along with long sleeves and thick cuffs provides a lot of thick material between you and heat radiating from pans and oven. This thick material can however lead to chefs getting too hot, causing them to sweat and tire more quickly, but will keep chefs working in fridges and freezers warmer.
Increasingly popular are shorter sleeved less formal jackets. Whilst these do not provide quite as much direct protection from the heat they make up for it by being lightweight, modern looking and breathable, ensuring a cooler chef overall. They are often found with venting systems similar to those found in all-weather hiking jackets to draw sweat away from the body to evaporate, causing a cooling effect on the skin, such as our recommend jackets from Chef Works. Whilst fast becoming the favoured option in restaurants, they do provide less heat and splash protection then the traditional coat and are less suited to people at the colder end of the kitchen. However most are available in short and long sleeve lengths so you can get a little extra protection whilst keeping this style.
You should tailor your chef's uniforms to the job they do, or at least the job they mainly do. If you have a closed kitchen where customers don't see the chefs working, it is more important that the uniform is comfortable and functional for the job in hand rather than everyone matching. Uniformity can always be added using matching aprons, hats and by having your logo embroidered onto outfits, something most suppliers will do relatively cheaply nowadays.
One day a chef moaned that he was too hot, so I took a carving knife in one hand, held his jacket with the other and slashed it. Then I slashed his trousers. Both garments were still on his body at the time. 'That should provide a bit of ventilation; I told him
Chefs Trousers
Traditional chefs trousers usually feature a cheque pattern known as "Hounds Tooth" in black & white. This helps hide any spillages that can get onto the trousers during service, however plain black is also becoming a popular choice. There are lots of options available relatively inexpensively on sites such as Amazon or Catering Suppliers such as Nisbets as there is no need for them to "match" an accompanying jacket, as well as options to allow chefs to show some "Individuality".
Either way a light breathable fabric is preferable to ensure comfort during busy working hours.
The Chef Hat
The traditional tall chef's hat known a toque has a lot of legends surrounding it's origins, from an Assyrian King's fear of being poisoned to Greek Monks hiding chefs, It is generally credited in its current form to Marie-Antoine Carême.
This style of hat has often gone out of style now, being mainly used in training kitchens and photo opportunities. Skull caps, head wraps and flat caps are all now available styles in chef headwear. The important thing is that the hat should have no brim. Despite the popularity of baseball hats in fast food restaurants, the brim of a hat will trap heat, steam and smoke from cooking and channel it into the chef's face. You can find a wide range of styles and prices on Amazon.
Apron
Chef aprons provide an extra layer of defence against stains and spills. They should ideally be long enough to pass the knee and as thick as possible without being heavy. You should also consider if each chef needs pockets on their apron to help complete each day's tasks.
Fabric
The fabric choice for Chef jackets is very important. Your jacket needs to hold its shape and colour through hundreds of washes, as well as not be too heavy to remain comfortable. As it is also there to protect you from spills and heat it needs to be of high quality. We would always recommend that you buy the best you can afford, people will be wearing it 12 hours a day every day so it needs to last.
The main options for fabrics are:
• Polyester
• Polycotton
• Cotton
Each of these have advantages and disadvantages, a lightweight fabric like polyester will dry quicker after washing but a fabric like cotton is more comfortable and better for your skin. Cotton is much more breathable then polyester so will draw sweat away, so if you are looking at polyester or polycotton blends you should look for vented jackets.
Polyester Chef Jackets
Polyester is a crease resistant lightweight fabric. It is generally cheaper the cotton and is great for jackets that are worn for short periods or by part time staff.
Cotton Chef Jackets
Cotton is a great fabric for chef's jackets, especially for the full time chef. It provides excellent breathability, the cotton helps draws away sweat, and it is comfortable. It can be blended with Polyester to create Polycotton. The highest quality ones are made from Egyptian Cotton.
Polycotton Chef Jackets
Polycotton is the most common option for line chefs, as it strikes the balance between cost and quality. It is made from a blend of polyester and cotton (Usually a 35/65 mix). It tends to be relatively wrinkle free and dry quicker than pure cotton.
Details
You should look at what kind of fastenings you go for on your uniforms. Options such as replaceable buttons, plastic studs and metal poppers are all available, with poppers currently being the most popular. We would recommend against anything with metal zips as this will transfer heat straight through to your body in the event of a spillage.
You should look at how many pockets are needed for the specific jobs. With all of the paperwork chefs are required to do are slots for pens required? Somewhere to hold a thermometer or temperature probe?
The size of collar can have a big impact on comfort. Whilst high neck collars are traditional and fit in better with restaurants looking for a classic feel, smaller collars tend to be more comfortable for busy chefs.
The colour of chef's uniforms can also be important. Whilst white is classic for the reasons we have discussed, as businesses increasingly look for consistent branding, especially in open kitchens, coloured uniforms are becoming increasingly popular.
Choosing the right uniform will always be a careful balance between practicality, style and cost, however you should always consider practical applications first even if this means staff don't all have matching uniforms. Comfortable and cool chefs are able to work more efficiently and if you really need them all to match for photos or public appearances a single set of "dress whites" is always an option.