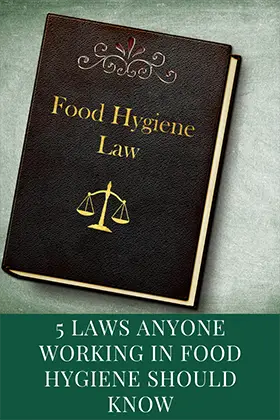 When it comes to Food Hygiene in the U.K. there are a lot of regulations to be aware of. Here we break down the 5 most important Food Hygiene Laws that everyone should know about.
Food Standards Act 1999
Food Safety Act 1990
Food Information Regulations 2014
The Food Safety and Hygiene (England) Act 2013
The Food Hygiene Rating (Wales) Act 2013 & Food Hygiene Rating Act (Northern Ireland) 2016
Food Standards Act 1999
This is the act that establishes the Food Standards Agency (yr Asiantaeth Safonau Bwyd) as the regulatory body for food hygiene standards. It sets out their function and it is what gives them the authority to carry out those functions. It also details their reporting structure to parliament.
It sets out the main function of the Food Standards Agency in law. "to protect public health from risks which may arise in connection with the consumption of food (including risks caused by the way in which it is produced or supplied) and otherwise to protect the interests of consumers in relation to food."
It sets out that they should do this not just through enforcement and monitoring actions but also through developing policies and providing advice to other government departments.
It gives them broad powers to ensure the food that reaches customers is safe at every stage of production.
England and Wales
Food Safety Act 1990
The Food Safety act 1990 (as Amended in 2004) is the law which sets out the standards to which food for human consumption are held, as well as the options available to enforcement authorities (Such as the FSA) have to deal with breaches of the law.
The basic tenants of this law are that you must
Ensure you do not add or remove anything, or treat food in any way that causes or could cause damage the health of people eating it.
Ensure that food served or sold is of the nature and quality that consumers expect
Ensure that its labelled and advertised in a way that is accurate, true and clear
It sets out the idea of foods fit and not fit for human consumption, and the presumption that all food usually eaten by humans is intend to be, and therefore should be fit for human consumption.
It also sets out two valid defences to breaches of the law;
Defence of due diligence – This applies if you can prove that you took all reasonable precautions and exercised all due diligence to avoid the commission of the offence.
Offences due to fault of another person – This applies were you un-knowingly commit an offence due to actions of someone else in the food chain. Such as unknowingly preparing meals with food from suppliers who were later found to have broken the law. In this case the person who broke the law originally would be guilty of the offence.
The Act sets out the enforcement options such as Prohibition orders, seizure of property, improvement notices and prohibition orders.
The Food Safety Order 1991 is the similar legislation valid in Northern Ireland.
Food Information Regulations 2014
This law is the implementation of the European Food Information to Consumers Regulation No 1169/2011. The main impact of this is to layout the 14 allergens which all food businesses must provide information about. These are:
Celery
Cereals containing gluten
Crustaceans
Eggs
Fish
Lupin
Milk
Molluscs
Mustard
Nuts
Peanuts
Sesame seeds
Soya
Sulphur dioxide
Any business selling pre-packaged food containing these items must list them in bold writing so they stand out from the rest of the ingredients list. Anyone selling non pre-packed food must have this information available to the customer if asked.
This act requires businesses to call food items by their legal or customary names so that it is obvious to the customer what the food item is. It also requires the type of animal meat content comes from to be listed in the ingredients.
The Food Safety and Hygiene (England) Regulations 2013
These regulations bring in the need for a written food safety system, based around the concept of Hazard Analysis and Critical Control Points (HACCP). They clarify and condense several previous EU laws and state that that it is the primary responsibility of food business operators to produce food safely. This also sets out the requirement that staff be appropriately supervised and trained, and is the reason that accredited Food Hygiene training courses are now industry standard.
The corresponding legislation in Wales, Northern Ireland and Scotland was passed in 2006.
The Food Hygiene Rating (Wales) Act 2013 & Food Hygiene Rating Act (Northern Ireland) 2016
These two acts make the use of Food Hygiene Ratings mandatory in Wales and Northern Ireland. Councils in these areas must run the Food Hygiene Ranking System (FHRS) and food premises are required to display their current ranking using the approved window sticker in a prominent position on site. There is currently discussion on making this mandatory in England as-well.
In Conclusion
Broadening your knowledge with these laws, either as a new business owner or a experienced manager, will help you to avoid mistakes that be costly to you and your customers. So take the time to fully understand your responsibilities.