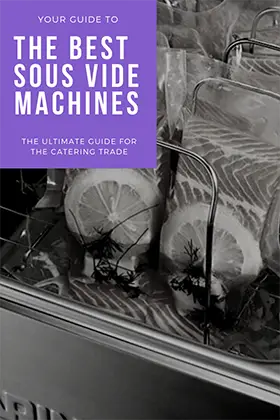 Sous Vide is a method of cooking using a consistent low temperature applied through a water bath. One the purview of high concept gastro-engineers, the consistent results and ease of use have led to them becoming an increasingly core component of professional kitchens.
It is important to find the right machine for your usage, not everyone needs a monster 38ltr machine. In this article we look at the best Sous Vide Machines for the commercial kitchen
Capacity: 8Ltr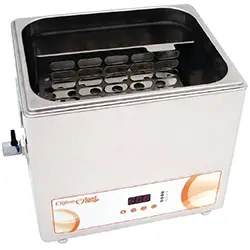 The Clifton sous vide machine is a great machine for small restaurants to start out with. Its 8ltr tank is large enough to cook a lobster and it's easy to use control system means even the newest of Kitchen Porter can manage the machine easily.
The temperature controls seem to have a high level of accuracy (they claim to within 0.2°C and this seems true as new) and the machine remembers the previous settings when turned on, so if you are using for one item menu consistently you don't need to spend time reprograming it.
The machine also has Cliftons "Run-Dry" feature, which turns the machine off to avoid damage if the water drops below the minimum level.
Like all of these machines featured in our list, it has a built in timer and rugged stainless steel construction to ensure it can stand up to the rigors of commercial kitchen life.
Product Features
Capacity: 8Ltr
Dimensions: 290(H) x 332(W) x 270(D)mm
Dimensions: - internal 150(H) x 300(W) x 240(D)mm
Material: Stainless steel
Power Type: 0.8kW
Supplier Model Number: FL08D
Temperature Range: 5°C to 95°C
Voltage 230V
Capacity: 12.5 Ltr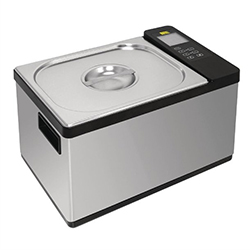 Whilst the temperature on the Buffalo Sous Vide Machine is only accurate to within 0.5°C, slightly worse than our previous entry, this is due to the increased capacity, up from 8ltrs to 12.5ltrs and is currently significantly cheaper.
It comes with the standard digital controls and screen and timer, and whilst it does not have the Cliftons "Run-Dry" safety feature, it does have a loud alarm if the water level gets too low.
Product Features
Capacity: 12.5 Ltr
Dimensions: 280(H) x 415(W) x 265(D)mm
Material: Stainless Steel
Power Type: 650W. 2.8A
Temperature Range: 5°C to 99°C
Voltage: 230V
Capacity: 2 x 8Ltr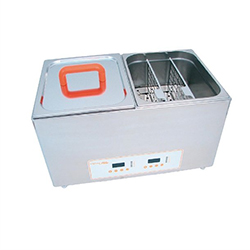 The Clifton Duobath is perfect for caterers who are expanding to use sous vide in more dishes. It has two separate 8ltr water baths, with separate temperature, time controls and drainage taps for each.
It comes with Cliftons "Run-Dry" feature which protects the machine from damage if the water level is too low and their high temperature accuracy of +/- 0.2°C, which allows for confidence in repeated quality of cooking. Like all Cliftons it will remember previous setting when turned off so you are always ready to go.
Product Features
Capacity: 8Ltr+8Ltr
Dimensions: 290(H) x 600(W) x 332(D)mm
Dimensions: - internal 150(H)x 240(W)x 300(D)mm per chamber
Material: Stainless steel
Power Type: 1.6kW
Supplier Model Number: FLD-8/8
Temperature Range: 5°C to 95°C
Voltage: 230V
Capacity: 38Ltr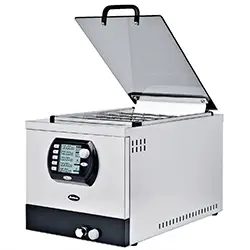 Would you like to Sous Vide a whole pig? This machine cant quite manage that, but with its huge 38ltr capacity, the Instanta Digital Sous Vide Machine can fit a couple of pork joints in no problem.
Designed for the busy commercial kitchen this machine has memory to hold five separate cooking time and temperature combinations, and comes with removable racks to hold smaller items. It also has the most accurate temperature of all the models features here, able to hold the water consistently to within +/- 1°C aided by an internal pump, which circulates the water to ensure that temperature is consistent throughout that vat.
Product Features
Capacity: 38Ltr
Dimensions: 415(H) x 375(W) x 588(D)mm
Material: Stainless steel
Power Type: 3kW, 13A
Supplier Model Number: SV38
Temperature Range: 1°C to 99.9°C
Voltage: 230V
Capacity: 28Ltr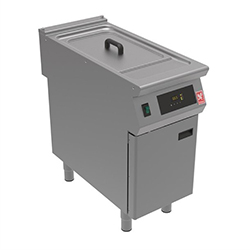 The only free standing machine on our list, the Falcon F900 has a 28ltr capacity and visually will fit right in with your freestanding fryers, ensuring that it is a the same easy working height as the rest  of your kitchen. It features Falcons Dynamic Link System which allows it to join seamlessly to any of the F900 range.
It comes with all the standard features you would expect, stainless steel construction, digital timer and drainage taps and requires no specialist plumbing or electrical works to fit. It is available with legs or casters to make cleaning your kitchen as easy as possible.
Product Features
Capacity: 28Ltr
Dimensions: 900(H) x 400(W) x 900(D)mm
Material: Stainless Steel
Power Type: Plug
Temperature Range: 5°C to 95°C
Voltage: 230V

When you cook sous vide for a long period of time you will find that the water level can drop, resulting in you either needing to constantly top up the water or miss it and your machine cut off for safety. This also makes the machine much less energy efficient as heat is constantly being removed by evaporation.
Whilst the simplest solution is to always use a lid of your machine, this is not always possible, the next best thing to use are Sous Vide cooking balls.
Made of Polypropylene they are food safe and have been used for years in science labs to improve the quality of water baths. They cover the service of the water easily, are reusable and significantly cut down the loss of water and improve efficiency.
You can find them on Amazon Here.
For more buying guides for your business check out Best Commercial Microwave Ovens, Best Commercial Washing Machines, Best Commercial Baked Potato Ovens and What is the Best Chef Uniform for your Business?