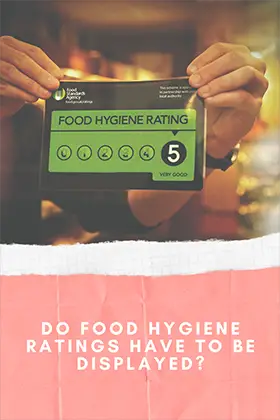 As you travel the UK visiting supermarkets and restaurants you will often notice the window stickers showing a business's food hygiene ratings, they're to allow you to make an informed decision about hygiene levels in the business. However not everyone shows them, so is this allowed? Do you have to announce your rating? And why would you choose not to?
In Northern Ireland and Wales rankings must be displayed by law. In Scotland and England currently ratings do not have to be displayed although there is growing pressure for legislation to change this.
However you would imagine any business with a high score would be proud to display their rating so the lack of display can say a lot about a business in the minds of customers.
Wales and Northern Ireland
The Food Hygiene Rating (Wales) Act 2013 & Food Hygiene Rating Act (Northern Ireland) 2016 set out that the rating sticker must be displayed "at or near each entrance to the establishment that is available for use by customers in a conspicuous place where it is capable of being easily read by customers before they enter the establishment when it is open for business." Which is really just a fancy way of saying "by the front door where people can see it."
What is the penalty for not displaying my score?
The maximum fine a court can impose for breaching the Wales act is set at "level 3 on the standard scale" which is currently £1000. However if you are simply not displaying a score when required the act allows for a fixed penalty notice to be issued. This gives you the option to pay a £200 fine within 28 days or a reduced £150 fine if you pay within 14 days. If you choose to take this option rather than fight the charge in court then you cannot be convicted of the offence and would avoid gaining a criminal record.
Scotland and England
In Scotland and England there is no legal requirement to show your rating. However if you do show the sticker then it must be your current score.
In 2017 a café in Drayton Park was fined £2500 by Islington council for displaying two stickers in their window showing an out of date 5 star rating, their rating at the time of the inspectors visit was actually a 1. They were charged under The Consumer Protection from Unfair Trading Regulations 2008 so it is important to show the correct score at all times.
Why do people not display their food hygiene ratings?
There are many reasons why a business might not display there rating. The first and most obvious is of course that they scored a low rating. In a society used to the likes of Tripadvisor and Trust pilot, scored systems can have a big impact on sales and for a lot of businesses a five star rating is a powerful advertising tool. Some businesses decide that it is better to display no ranking at all then show that you have a lower score then your neighbouring competitors.
A second perhaps less common reason is aesthetics, if you have a sleek high-end storefront then the sticker can break the clean lines and high priced image you wish to portray, likewise on a 50's American diner, then the sticker can break the illusion and magic of being transported to the era.
Finally you might choose not to display your rating if you are disputing your given score. If you feel the given score doesn't reflect the reality of your business you have the right to appeal. As your new score does not appear on the Food Standards Agency list during the appeals process you would not need to display the disputed score during this time.
You can check out our guide 12 Ways to Promote your Business using Food Hygiene Ratings for ideas on using your score to promote your business and All About Hotel Star Ratings where we discuss the benefits of joining a Star Rating System for hotels.